Dr. Christie Wiles
Lead Veterinarian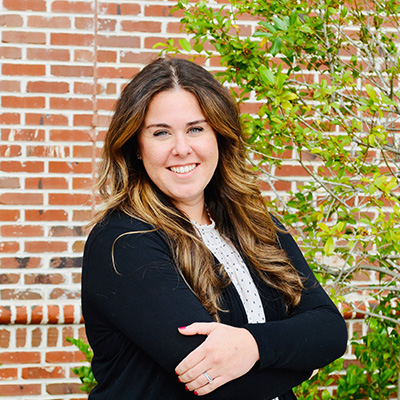 Dr. Christie Wiles grew up outside of Philadelphia in the town of West Chester, Pennsylvania. She got an early start as an animal lover, knocking on her neighbors' doors to pet their cats and pleading with her parents for riding lessons until they finally relented. This love of animals grew into a passion for veterinary medicine, and she set her sights on a veterinary degree from a very young age.
Dr. Wiles attended Virginia Tech for her undergraduate studies, where she graduated Magna Cum Laude with a degree in Animal & Poultry Sciences. She was awarded a Doctorate of Veterinary Medicine from Purdue University in 2014. Her professional interests include internal medicine, dentistry, feline medicine, and dermatology.
Dr. Wiles truly believes in the human-animal bond. There is nothing like the love we share with our pets. Our pets are integral parts of our lives and families, and Dr. Wiles takes joy in fostering relationships between clients and furry family members alike. She has a passion for providing high-quality medicine to her patients and enjoys client education and working closely with families to tailor their pet's healthcare to fit their specific needs.
Dr. Wiles and her husband Marcus met at Virginia Tech, where they cheered for the Hokies together for four years before finally deciding to date after college. They have a wonderful son, Caleb, and an ever-growing population of animals. The current menagerie consists of a Foxhound-Lab mix named Walker and three very nice and spoiled cats (Riley, Scarlett, and Izzy). Christie likes to keep Marcus guessing when the next furry family member might arrive home with her!
The Wiles clan moved to Johns Island from Maryland in 2021 to join a family living in the area and have been captivated by the island lifestyle. Dr. Wiles was drawn in by the siren song of marsh grasses, crashing surf, and sunny skies, and she has fallen in love with the Sea Islands. In her free time, Dr. Wiles enjoys paddleboarding, yoga, hiking, riding her Peloton, gourmet cooking, and spending time with her family on the beach or camping in the mountains. She feels privileged to be able to provide quality medical care to your furry family members as your veterinarian at Salt Marsh Animal Hospital!
Ledilia Johnson
Practice Manager
She is originally from Annapolis, Maryland. She started by studying to be an Electric Engineer but fell in love with Veterinary Medicine. In her spare time, she enjoys bowling, traveling, and reading. At home, she keeps busy with her two crazy Beagles, Fred and Ginger.
Amy Trainor
Client Care Representative
Amy was born and raised in Charleston, SC and has always had a passion for animals. She began her journey in veterinary medicine in high school working as a kennel technician and volunteering at the local ASPCA. She completed her first year of undergrad in Animal Sciences at Clemson University. She then worked for Charleston Veterinary Referral Center as a client care rep. for a year and chose to continue her studies in pre-vet at Arizona State University-Online. She currently lives with her boyfriend, his elderly parents, and her two cats: Milo and Maverick.